Double hung windows in Kansas City are a very popular style of window. A double-hung window has two sashes at the top and bottom that slide up and down. Compared to a single hung, a double-hung window is much easier to clean since both of the window sashes can be tilted. If you've recently had Sunshine Home Improvement out for window replacement in Kansas City and now have new double-hung windows, you may be wondering how to clean them. If you want to learn how to clean a double-hung window according to the best replacement window company in Kansas City, then continue reading! 
Remove the screens

 

Unlock the windows by 

moving the bottom latch inwards and raise it six to eight inches

 

Vacuum or clean the bottom sill

 

Pull the tilt hatches on the bottom window sash inwards

 

Tilt the bottom window 

towards you until it reaches a 90-degree angle

 

Slide the top window down and pull the tilt hatches inward

 

Tilt the top window towards you until it reaches a 90-degree angle

 

Clean the exterior glass of the top window first by using a solution of water and v

inegar

 

Dry the window by using either a clean squeegee or lint-free cloth

 

Clean the interior of the top window and then slide back into the frame

 

Repeat the same process with the bottom window
To clean the interior part of your double-hung window, you can either use a water and vinegar solution or a commerical window cleaner like Windex. If you're looking to replace your single hung windows in Kansas City to double hung windows in Kansas City from Sunshine Home Improvement, contact us to receive a free project quote! We offer the most affordable windows in Kansas City, as we are home of the $289 window in Kansas City. You just can't beat the quality and price of our windows!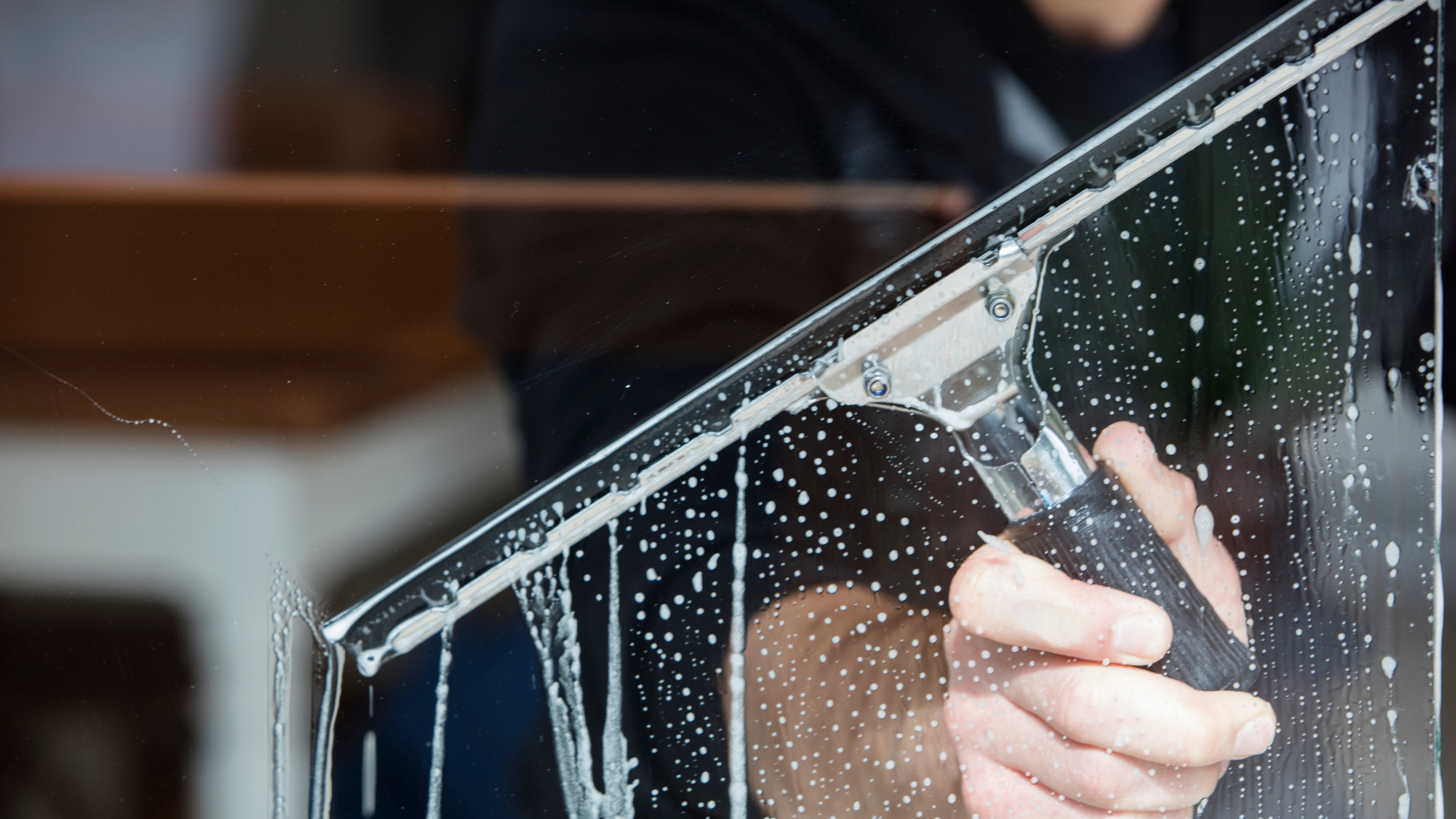 The ideal window cleaner for double hung windows in Kansas City needs to be able to cut through dirt, dust, and pollen from the elements. It should also leave your windows looking sparkling clean with no streaks or residue.
A multi-surface cleaner is an excellent choice, as it can handle a variety of surfaces and stubborn grime. Look for a cleaner that is safe to use on glass, vinyl frames, and other window components. Make sure the product is certified by the EPA as non-toxic and biodegradable.
When it comes to application, reach for a soft cloth or microfiber towel instead of paper towels that can leave lint behind. Spray a small amount of cleaner directly onto the cloth, then use circular motions to lightly rub the dirt away. To avoid streaks, rinse off any excess solution and wipe with a dry cloth.
For tough spots or heavy buildup, opt for an ammonia-free window cleaning concentrate diluted in water according to the manufacturer's instructions. Don't forget to wear rubber gloves and safety glasses when cleaning with the more powerful cleaning agents. With the right cleaner and a few simple steps, you'll have your windows looking spotless in no time!
Call Sunshine Home Improvement!
At Sunshine Home Improvement, we can inspect, repair, or replace your windows. We offer excellent options for new windows, including energy efficient windows in Kansas City, affordable windows in Kansas City, casement windows, and more. We do window replacement every day, but we can also help you with door replacement, attic insulation, sunrooms, siding, or building a new deck.
 Our expert window installers will provide insight into the best style of windows to fit your and your home's needs. With over 30 years of window installation experience in the Kansas City metro area, Sunshine Home Improvement is the best option for efficient, high-quality, reasonably priced window replacement.